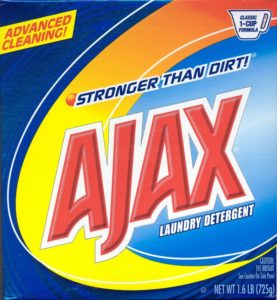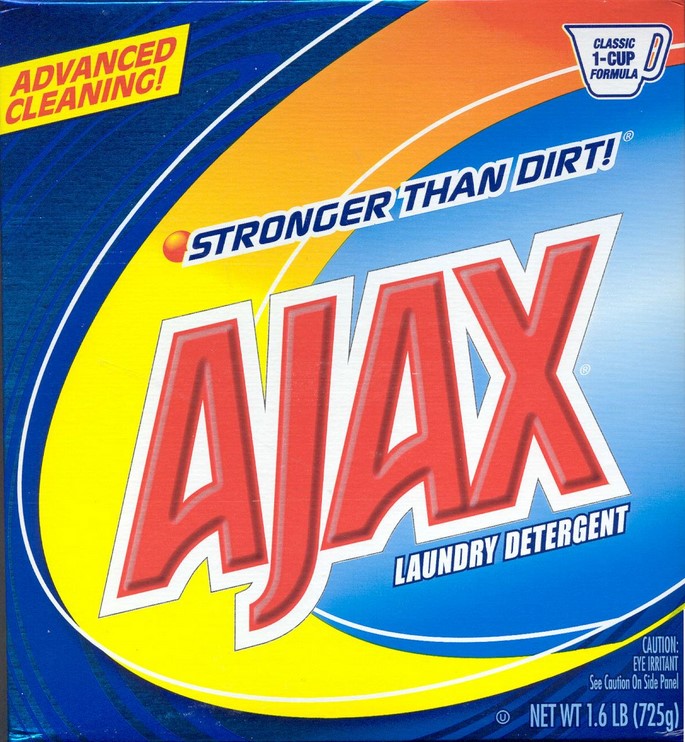 WHITE PLAINS – Design agency Little Big Brands recently helped client Colgate-Palmolive update and extend one of their brand classics, Ajax, for the European market. The lead on the redesign was Executive Creative Director Richard Palmer.
Since 2014, the Essex, England native has worked on the creation, redesign and positioning of dozens of new and existing brands. One of his specialties is heritage brands — those well-known household consumer brands that are beloved, but potentially aging ungracefully.
This new product extension and look for Ajax (previous story on redesign HERE) extends the brand into a new line of sustainable, plant-based disinfecting wipes especially tailored for the European market. Unlike many older brands that have been through many brand owners, losing their heritage with each step, Ajax is a product that has been consistently sold across the world by one company over generations.
BrandlandUSA Editor Garland Pollard recently caught up with Palmer and asked him about Ajax, and the agency's philosophy of unlocking the brand value of these longstanding consumer products. We also asked him for advice for any consumer packaged goods company that had a large assortment of heritage brands that might be known to older customers, but need relevance.
BrandlandUSA: Did you grow up with Ajax in England? Was it well-known, or was it a tertiary brand?
Richard Palmer: Yes, it takes me back to my grandmother's house. She always used to say, 'I've got to Ajax it.'
BrandlandUSA: Is this new Ajax product supposed to be international, so you can use it everywhere, or is this just for the EU?
RP: The brand identity itself has global recognition, but this was specifically for the E.U. It was really tapping into insights that they had garnered through research that the Millennial and Gen Z markets are much more in tune with eco-friendly, sustainable products. If they had just put their current branding on it, it would have died. This age group is much more motivated by aesthetics and purposeful about the products they surround themselves with. It's like a badge of their values. We were focused on creating assets that the brand could utilize, not only in the packaging, but for all the touch points and merchandising units.
BrandlandUSA: As I was thinking about the Ajax brand, it was always thought that there were like great chemical reactions that would kill everything, which was the brand value. But I guess that generation doesn't have that perception of it?
RP: Funny isn't it? I think consumers now want the efficacy of the cleaner, but are much more in tune with the chemicals in it and whether the product is biodegradable.
BrandlandUSA: Were their archives helpful or is it pretty straightforward and you didn't have to go to that depth?
RP: They shared their global brand guidelines with us and some historical artifacts. One of the things that is really interesting with heritage brands is you have to educate yourself and immerse yourself in the history to potentially find those nuggets or gems that you could actually bring back to life. I worked on the Hellman's brand in the past, where the Hellman's brand identity always changed color. There was a blue one, a light blue one and a green one. There wasn't 'one' consistent look. We didn't radically change it, but we did put a stake in the ground, and I think that's what we did here.
BrandlandUSA: I saw similar things with your work with heritage brands like Campho Phenique and Wishbone.
RP: The Campho Phenique job is really interesting because that product is intense and it works really, really well, but there was no powerful connotation with its previous look and feel. What we tapped into there was, again, good research that gave us the information we needed to create a successful design that appealed to consumers.
BrandlandUSA: The Campho Phenique brand is very well-known because it was on radio all the time. But I can't remember exactly what it actually looked like.
RP: It was kind of like what every single OTC product looked like 20 years ago. It needed to own a point of view and feel relevant for consumers today.
BrandlandUSA: With Wishbone, you had something that's pretty well-known, but maybe there are a lot of new entrants in the market?
RP: Those jobs are interesting because obviously the base business has been around for decades. You almost have to establish that as the flagship of the portfolio. Then, with innovation and consumers' desire to be culinary experts, you can start introducing different ingredients and flavor profiles. People's culinary palates have become a lot more diverse I think because the world has gotten smaller.
BrandlandUSA: There is this large tier of these heritage brands that were not well utilized, and they were shuttled around. What do you say to some of those companies, if you were pitching them on this sort of approach? They've probably got 30 different odd brands, and they might or might not all be as good as Campho Phenique. What would you say to them in terms of cost priorities?
RP: We often come across this where brands get acquired by businesses so that they can build out their portfolio and then they have to go through the exercise of which ones to prioritize. It comes down to consumer perception, any equity that's really deep-rooted in those brands that is in people's lives and culture and memory systems. Finding that out is important. Look for brands that can still own something in the marketplace or have a history of creating meaningful connections with consumers.
About Richard Palmer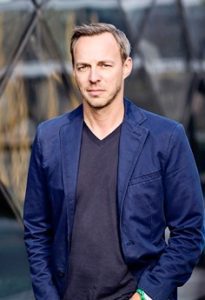 Palmer is a native of Essex, England where he was born and raised. He is an honors graduate of Norwich School of Art & Design, and began his career at Smith & Milton and Siebert Head and later Landor, Sterling Brands, Anthem and Clark McDowall.
His work in consumer products goods includes projects for P&G, Unilever, Mars USA, Kraft, ConAgra, Campbell's, Pepperidge Farm, Kellogg's, Heinz, SC Johnson, GSK, Pfizer, Novartis, J&J, Bayer, Merck, Henkel, Revlon, Colgate Palmolive, Coca-Cola, PepsiCo, Pernod Ricard, Anheuser-Busch, Georgia-Pacific, Supervalu and CVS.
He lives in Connecticut with his wife, also a designer, a daughter, and twin boys.