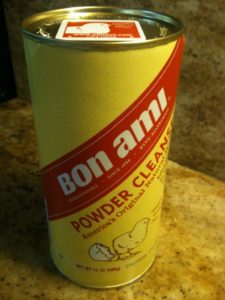 KANSAS CITY, MISSOURI – Large consumer products companies like Proctor & Gamble and Colgate Palmolive have sometimes complicated the sale of household products. Endless product line extensions and umpteen variations on products have confused consumers who like the product as it was. Most recently, the trend has been the mixing of product ingredients (Olay in dish soap, Scope in toothpaste) that confuse brands even further. Even worse, the flagship products of each brand get diminished attention.
But Bon Ami hasn't changed since 1886, and is now marketing this fact. Their website puts the lack of change as their marketing position. Their website describes how the were green before there was green.
On their site Nancy Beaham, of the fifth generation family that owns the product (they bought it in 1974 to add to their Faultless Starch brand to make Faultless/Bon Ami Company), kept the product the same:
Every few years, the same suggestions would rise up from inside the company. Some employees said adding bleach would improve quality. Some said new additives would help with sales pitches. Still others said new fragrances would help with marketing. At regular intervals, and with only slight variations, the suggestions would make their way to the product lab – and almost onto store shelves. But every time, Nancy Beaham intervened. She didn't take a Just Say No approach. She just kept suggesting that the company might want to keep the product as it was. She said it was important.
Bon Ami is the kitchen cleanser with the simple slogan "Hasn't Scratched Yet." In recent years, it has been hard to find on average shelves, often only in gourmet kitchen stores and independent grocers. But of late, the company has begun selling in end-of-aisle space in Florida's Publix stores, a signal that the product had truly arrived back on the market with strong marketing push.
Bon Ami is part of the Faultess Starch company of Kansas City. The company has recently embarked on an expansion of its urban factory space into an urban campus, instead of moving out of the city to greenfields. This is brilliant marketing; today's consumer not only wants products that are good for the environment, but they want to see entire factory processes that do not harm the environment and instead contribute to the city and region that they exist in.
Do check in on their website for the full history of Bon Ami, and see more about their downtown factory campus.
What if other consumer companies in the U.S. took this approach?