Editor's Note from 2021: The most recent news is that the soap is no longer in production.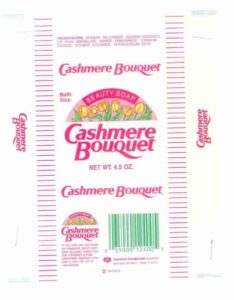 NEW YORK – There is something great about a brand that has not only survived a long time, but is still owned by the original company. Such is the case with Cashmere Bouquet, a soap that dates to 1872, and for the whole time, has been made by another Uber-brand, Colgate-Palmolive (NYSE: CL).
According to the website www.perfumeprojects.com, Cashmere Bouquet Toilet Water was but one product in a long line of "Cashmere Bouquet" products sold in the late 19th century. Colgate was founded in 1806; Cashmere Bouquet was introduced six years after Colgate first introduced perfumed soap. The website points out that even then, Colgate was adept at brand extensions.
In fact, perhaps the Cashmere Bouquet brand, while dated, could be revived and re-extended rather like Keihl's or Caswell-Massey?
The 1872 introduction of Cashmere Bouquet marked the first milled perfumed toilet soap, and that year it was registered as a Colgate trademark. Then, the product was seen more as a fashion and luxury item. Today, it is a hotel soap brand, as well as sold at discount closeout stores.
Buy a bar today, and you can still smell that familiar smell. The main ingredients for Cashmere Bouquet are pretty good by the way, including sodium tallowate, sodium cocoate, glycerin, fragrance and other materials. Cashmere Bouquet is a most wonderful museum piece; It's nice to see something still made the old way, with animal fat and lye. And it is Made in U.S.A.
Today, Colgate still sells the product, along with other soaps that include Irish Spring and Palmolive. In the U.S., the bar soap brand of Palmolive is not emphasized, as the product as seen as a dish detergent. However, in Europe, the U.K., and Australia, Palmolive is seen as more of a special scented natural soap.
Apparently, Colgate actually made the soap until 2005, when a century old factory in Kansas City was closed down and the company turned manufacturing over to a third party.