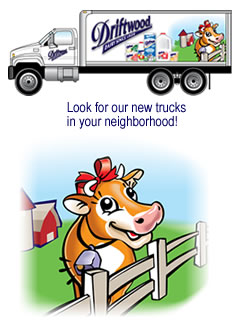 EL MONTE – We happened upon the Driftwood Dairy while watching the 2000 comedy movie Ready To Rumble. The California dairy makes a cameo as a place where Gordie Boggs (David Arquette) and Sean Dawkins (Scott Caan) stop after hitching a ride with some nuns singing "Running with the Devil."
The dairy was founded in 1920. The current owners took over when Mike Dolan, who worked for Carnation, bought the operations at Driftwood Dairy in El Monte on April 1, 1946. He came from a long line of dairymen, including his father, Pat Dolan.
Their website says it was one cash-and-carry store and one home delivery route. In its first month Driftwood grossed $6,800, a fair beginning but a far cry from the over $100 million annual sales of the dairy today.
For more info, see www.driftwooddairy.com
Read other BrandlandUSA dairy stories including