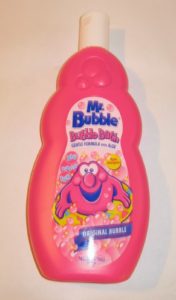 CHASKA, Minnesota – Great brands bring personality to commodities to products like soap. Perhaps the best example of such a brand is Mr. Bubble. If the packaging and marketing were not there, the product would not be interesting at all. But since the packaging and old advertising was so good, America likes it.
Mr. Bubble went through a bad period, and his daddy, Ascendia Brands, went bankrupt in August of 2008. Today, Mr. Bubble has a whole new lineup of products from Minnesota-based The Village Company, which purchased Mr. Bubble from the remnants of Princeton, NJ-based Ascendia Brands. Village Company makes the Sesame Street lineup of tub products, including a soap "finger paint" and other concoctions like an Elmo-topped watermelon tub soap. Village Company is smart; it now puts "pediatrician approved" to indicate that no, it won't give the kids rashes.
The product got a try from the girl pictured above. Big hit. You do make bath time lots of fun, says the Rubber Duckie song. The new lineup not only has regular bubble making liquid, but two new products, a spray foam in blue and white, and a shampoo/wash. There are no flakes, which was the original concoction. We miss the box, but it was always a mess when it got wet.
Mr. Bubble was invented by Harold Schafer and the Gold Seal Company in North Dakota during WWII and later sold by Playtex Products, Inc.
You can read more about Mr. Bubble on their website at Village Company. The company also makes old favorites like Dep hair gel and Soft & Dri deodorant.