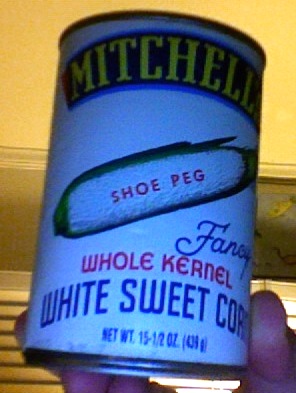 For generations, white sweet shoe peg corn was a staple of the Delmarva and East Coast. And one of the great brands was Mitchell's Whole Kernel Fancy White Sweet Corn, made by Hanover Foods of Hanover, Pennsylvania. We found a can on the shelves, but we didn't know if it was still around. (Above, their yellow corn package).
What's so great about Shoe Peg corn? It's sweeter and because the kernels are all irregular, it has the feel of something more exotic. And the brand Mitchell's is way cool; the label is still classic and they have not messed it up. It was originally made by Malcolm Mitchell of F.O. Mitchell & Bro., Inc.. It was one of dozens of regional grocery and canned vegetable brands on the Eastern Shore.
What's the difference between white sweet and other corn? First, it's white, and that makes it very different. We found a telling discussion on Chowhound that tells some more about it. A bit from the site:
'Mitchell's', which was/is a farming family in Perryman, Harford County. The Mitchells have pretty much subdivided and sold all their farmland for industrial development, which probably accounts for the absence of the product in the supermarkets.
So we looked for it. Hanover, on its website, was founded in 1924 and remarks that it is the largest fully integrated food processor in the U.S. They make a number of different brand names. From the FundingUniverse.com website we found the following brands:
Bickel's
Superfine
Spring Glen Fresh Foods
Dutch Farms
Gibbs
Mitchell's
Myers
Bonton Foods
Draper King Cole
Casa Maid
Sunny Side
Sunwise
Phillip's
York Snacks
L.K. Bowman
Find the company online at www.hanoverfoods.com.