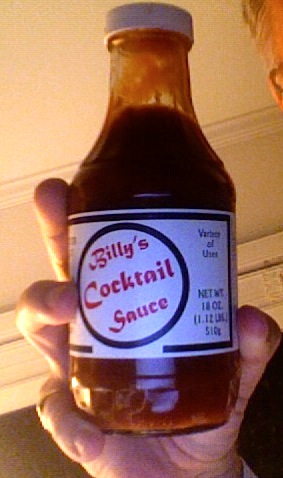 TARBORO – So we had some shrimp. And we needed cocktail sauce. Lucky for us, somehow we found some Billy's Cocktail sauce in the cupboard. It is made by Billy and Jean Trevathan of Tarboro, N.C.
Don't quite know where it came from, but apparently Billy's starts with an apple cider vinegar base. Frankly, we thought that cocktail sauce was just ketchup with some horseradish and Worcestershire mixed in, but it takes all sorts of cocktail sauce to make this great nation, and they have their own spicy recipe.
They have a great story:
Seems like Billy has had just as much fun cooking pigs, Brunswick stew, corn bread as he does perfecting his sauce. Billy began bottling his sauce as a fundraiser for his church and it grew into a business. If your church or organization would like to use this sauce as a fund raiser, please contact Billy and Jean. Two scriptures the Lord gave Jean for the product label have also guided their lives in word and deed.

Psalm 105:4

"Seek the Lord, and His strength; seek His face evermore" .


Acts 16:31

…"Believe on the Lord Jesus Christ, and thou shalt be saved…"
Visit them at www.billyssauces.com or call (252) 823-4931.