Editor's Note: Since the publication of this story, there has been increased interest in the building site, which was one of the Green Book locations. The Green Book itself was made famous in the 2018 movie.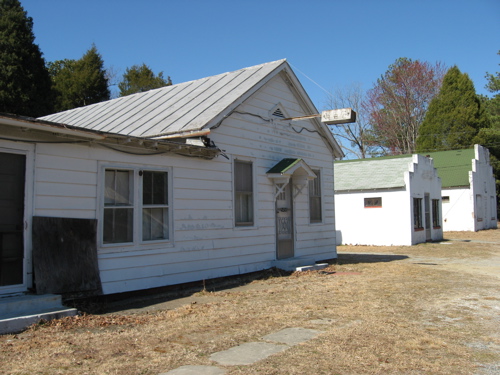 GLOUCESTER – Anyone who has driven Gloucester's Route 17 knows the W.J. Stokes Tavern. While much of the county has been suburbanized, the building remains as a time-piece, in good repair. Last time I drove through, I snapped a photo of it, thought the W.J. Stokes Tavern it was not open.
W. J. Stokes will be remembered for one thing, one saying that is now, sadly, missing from the top of the sign. The writing simply said:
W.J. Stokes. Don't hate, communicate.
Sadly, I could not get the actual images of the slogan, but BrandlandUSA readers will have to take my word for it and look hard at the close up of the faded sign pictured here.
Anyone who drove through as a child would read the sign, which said, again and again:
W.J. Stokes, don't hate, communicate.
In my youth I never went to W.J. Stokes, though I think my high school classmate Kellam did. I am sure some other white folks did. But no matter. We got the message. It was:
W.J. Stokes. Don't hate, communicate.
Why was this sign so powerful? It was evidence of how a local man could "brand" himself and his enterprise before we knew of ideas like branding. He used his name and a simple philosophy of business. Today's branding is simply having a "good name."
We all knew that W.J. Stokes was African-American, and any one who drove through Gloucester was able to hear about his message, and think about his restaurant.
The message takes on a powerful connotation as we can only imagine how hard it was to present the place as un-threatening in its time. So the message was a message to the community. We gather here at night, in peace, and mean no trouble. We wonder how many times W. J. Stokes had to say "we mean no trouble" before he put "Don't Hate Communicate" up on the sign.
Most Southern counties had a Green Book place like W.J. Stokes, a successful restaurant run by an African American, and built without handouts or SBA loans. Their owners were very often leaders in the community. Even white folks have a hard time starting a restaurant; I can only think of how hard it would be to run a restaurant in a Segregation-era Southern county. In Lancaster County, we had Crosby's. Mr. Crosby sold fried chicken by the roadside. It was made unique because a juicy friend chicken breast was served in slices of white bread.
Now that's branding. What a great message for today's Gloucester County Economic Development office.
Folks like Stokes left us this message, and this wonderful roadside building. I hope Gloucester can somehow keep alive this little piece of its identity, if only to show the community that during and after the Segregation era, the black community was vibrant, peaceful and entrepreneurial.
If any readers can add to the story of Stokes, and the W.J. Stokes Tavern, please help! Virginia history waits.