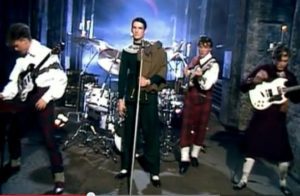 LONDON – "That's Spandau Ballet, Man!"
Or so said the guy on the Chevy Malibu commercial, part of the long pop legacy of that quintessentially 1980s band Spandau Ballet. This month, the British band launched a "Fan Archive Appeal" to dig into attics and closets for historic audio and visual content related to it.
Writing on the Spandau website spandauballet.com, the band said it is "trawling our archives" for photos, interviews, video and audio, including radio interviews, video clips and other materials for the history of the group. It's sort of an obvious move, but its surprising how few bands actually do it in such an open way.
Almost all musical acts go through ups and downs in their careers; gathering up the history is a way to make the past current. Particularly for pre-digital artists, archives are harder to come by as photos and recording was far more difficult. Because of YouTube, many of these bands are actually "current" as they have songs on YouTube with millions of views, though probably not as many as Rick Astley.
But with the price of a URL, free WordPress and cheap hosting, they can easily begin to gather the information in one central place. This has the effect of allowing the music brand to control its story, rather than Wikipedia or fan sites. Entertainers in particular should not rely on record labels for this work; very often a musician has switched labels over the years and material is often scattered in many places. In addition, older acts on backlist don't have large marketing budgets, so little gets done.
The Grateful Dead were the first to utilize a fan-centric, bottom-up strategy, allowing "tapers" to bring their cassette recorders to concerts to preserve each version of the performance. Tapers would trade versions of concerts; because the Dead played different sets and riffs at each performance, each one was unique. This approach helped the Dead weather the 1970s, when they were out of fashion but fans continued to flock to performances. In fact, the Dead never really had hits, but instead succeeded by staying close to customers. Dave Matthews and others continued it, though in both cases fans are only allowed to trade and cannot sell recordings.
Part of U.K. Pop History
Spandau was one of the "Blitz Kids" or "New Romantic" bands that came out of Britain's punk scene, re-interpreting classic British and movie looks for a post-punk era. Inspired by David Bowie and Bryan Ferry, they flourished as British culture careened from Mod to Futurism to Glam to Punk. British social critic Peter York (of Sloane Ranger fame) says one genesis for the trend was an Essex County, England nightclub called Goldmine on Canvey Island that had punk kids dressing up and dancing to Glenn Miller, Earth Wind & Fire and Ohio Players. (Sidenote: Lead singer Tony Hadley, still a singer and now a brewer, is apparently actually an admirer of Thatcher.)
The band is looking for anything relating to its "unique story and history" (though we hope the annoying P.M. Dawn remix gets left out). They write on their site:
Have you got any interesting or rare photos, videos or audio of the band? It can be from any stage of the band's career, but the older the better! For example, maybe you filmed a live show that you attended from the Parade tour in 1984 or made a VHS recording of the band backstage at a TV show or at a fan signing session in 1982? Do you have any audio interviews taken from the radio on cassette? Did you snap the guys without them knowing in the studio or in a public place?
Spandau will be posting the found archives, and crediting fans with what they have collected. All folks have to to is send their info to Gary Kemp, Martin Kemp, Steve Norman (saxophone), John Keeble and lead singer Tony Hadley at spandauarchiveappeal@gmail.com.
In the meantime, take a listen to this happy new version of True from 2009. Nice to see a band that dresses and acts its age.