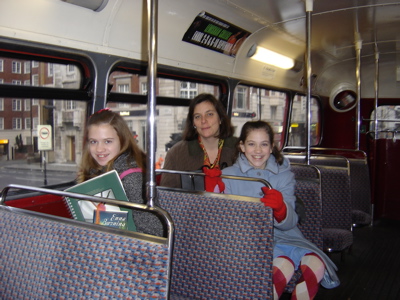 LONDON – There are few trademarks more remembered than London's Routemaster buses, and their recent revitalization is proof that moving vehicle programs can become historic landmarks in and of themselves. (At right, a beautiful American family enjoying the upstairs in 2004).
The Routemaster dates from 1956, and since then it has become a classic. It replaced the RT type, which was made by AEC Regent and Leyland, which dated from 1933. The RT looks more Edwardian and antique; the Routemaster is stylish and is what many associate as the London bus. (Variations of the RT are still made in India by Ashok Leyland. That Indian Leyland was once connected to British Leyland, and started at the time of Pandit Nehru.)
The Routemaster was loved not only because it was double-decker, but because it was snazzy looking. Many of the buses went overseas for tourist use. Over the years, they were refurbished, though they were at a disadvantage as they took two staff each (a driver and a conductor) and had no handicap accessibility. Because of this, the Routemaster was ditched by then-mayor Ken Livingston; they were gradually replaced by hated articulated or "bendy" buses.
Thankfully, a couple of heritage London Transport routes for tourists survived. And with the election of new Conservative mayor Boris Johnson, who used the buses in his campaign, London has a plan to bring a new version of the buses back. The new buses will be built by Wrightbus of Ireland. The bus is technically the NB4L, and will be the New Routemaster.
Said Johnson himself in a press release:
"Londoners have waited with stoic patience as work has continued behind the scenes to select the manufacturer to make the 21st century Routemaster a reality. The decision has now been made, and we can look forward to a new icon of London that not only returns to the Capital the joy of the open platform, but also utilises the latest state-of-the art green technology, slashing pollution and fuel consumption. The countdown is now well and truly on as Wrightbus work nineteen to the dozen to deliver Londoners their new bus in 2011, ahead of the world descending on the city for the 2012 Games.
The buses have a number of characteristics including:
An open platform that allows hop-on hop-off service.
Green technology: the new bus will incorporate the latest hybrid technology and will be 40 per cent more fuel efficient than conventional diesel buses.
Three doors (including the rear platform) and two staircases, making it easy to get on and off.
It is a fast turnaround for the new design. Wrightbus, which makes other double-deckers, will work on finalizing their design with initial outlines expected in the New Year. Wrightbus itself is a fascinating Irish company that operates on strong old school values; there is even a church at the factory.
"The New Bus for London project marks the start of an exciting new chapter in passenger transport in one of the world's great cities and Wrightbus is proud to be chosen as a partner to develop a new transport icon for London," said Mark Nodder, Managing Director of Wright Group, in the press announcement. "This is indeed a privilege and a wonderful opportunity for everyone in the Wright Group, to design and build a vehicle that will doubtless become recognisable the world over."