LITTLE ROCK – Dillard's, Inc. (NYSE: DDS) has launched a new brand in collaboration with influencer and entertaining author Kimberly Whitman. The new line is called Kimberly Whitman for Antonio Melani; the company is calling it a new "limited-edition capsule collection." It is one of three new collections and extensions of their Melani store brand with social media influencers.

"Kimberly Whitman for Antonio Melani is a perfect nod to Kimberly's celebrated stylish elegance. We love her use of cheerful colors in creating flattering, feminine pieces that fit our clients' multi-faceted lifestyles," said Dillard's Vice-President of Merchandising Alexandra Dillard Lucie, in a Business Wire release. "This collection, which also features amazing complementing shoe choices, is great for spring and summer – with a fresh, fun approach appropriate for every day to occasional dressing."
Kimberly Whitman for Antonio Melani is the second of three such collaborations. They recently launched Born on Fifth for Antonio Melani, a new collection developed in collaboration with Atlanta tastemaker Emily Hertz. Born on Fifth is a website and social media feed featuring Hertz' favorite fashion and entertaining ideas. At the beginning of 2020, they launched an sportswear design under the Antonio Melani label.
Unlike Macy's, Dillard's has been on a roll of late in its operations and stock price. Other chains have been so busy surviving that they have forgotten how to merchandise and create energy at stores. Below is a Google generated stock chart from roughly the last five years comparing Dillard's, Nordstrom, and Macy's. That their share price has exploded in the last year is particularly noticeable seeing the drop in share prices for the other department store chains, which have lost value in the last five years.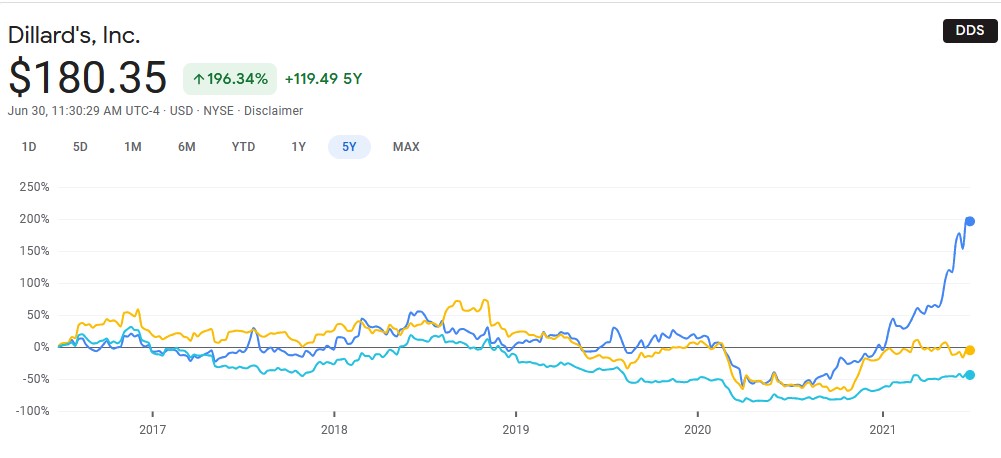 Whitman's feed is a nice wholesome throwback. In between photos of outfits and fashions, she even throws in a photo of one of her children's confirmations. Below, one of her Instagram tables settings, right out another era.
Below, a look at an Instagram from the Born on Fifth feed from Emily Hertz of Atlanta. The launch was accompanied by personal appearances at Atlanta Dillard's stores. Emily Hertz, with about 80,000 Instagram followers, is NYC-born who was the former Director of Marketing at Spanx, before she created her own line after the birth of her daughter Elle.
Below, some views of Whitman, and store images.