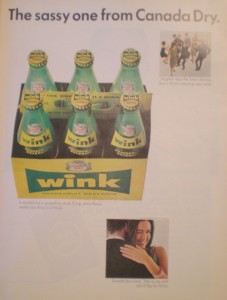 Are there still Wink fans?
Wink was the grapefruit-based soft drink by Canada Dry. Originally, the drink had a Wink-mobile that drove around, with a giant Wink bottle on top. Folks would do a sort of Pepsi Challenge and taste it. The grapefruit was very tart, and it originally resembled Pelligrino tartness.
It had a grown up taste, and seemed to be only purchased by grandparents when children came to stay for the weekend.
You see, in earlier but forgotten eras, children came down at 5 p.m. and sat with the older generation for something called cocktails. Children would drink these soft drinks such as Wink, and then leave and mess about until dinner time.
In the advertisement at right, Canada Dry is marketing it to the sassy generation.
It was the "Sassy one from Canada Dry."
Below a few commercials. At very bottom, the Winkmobile.