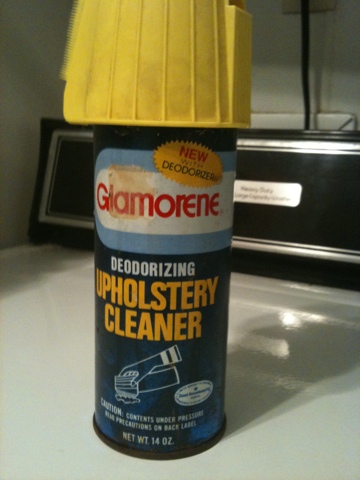 Glamorene was once a top upholstery cleaner; it has since disappeared from American shelves. Such an amusing name. Pictured here, a can from the 1970s or so.
Glamorene was originally made by the company Jerclaydon, a company owned by three brothers named Sheldon, Clayton and Jerold Hulsh. Time magazine has a great article from the 1950s on its testing by Reader's Digest; apparently it was a "compound of cellulose fiber (resembling sawdust) and various cleaning agents which can be rubbed into a rug, then brushed out bringing the dirt with it."
Later, it was made by Airwick Industries of Carlstadt, New Jersey. At some time, it became part of Reckitt & Colman, the British company best known for Dettol. Apparently, Glamorene was sold, on order of Federal Trade Commission divestiture, to Joh. A. Benckiser GmbH of Germany.
In 1999, Britain's Reckitt & Colman and Benckiser merged, becoming one of the world's largest companies of cleaning brands.
Apparently, the brand was a bit more glamorous back in the 1950s, when it was new.