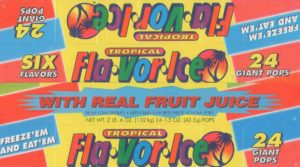 WEST CHICAGO – One of the easiest and cheapest ways to keep children happy in the summer is the frozen ice bar, and the two top brands are Fla-Vor-Ice and Otter Pops. The question is which is preferable, and why. Both brands are made by the Chicago company Jel-Sert, and each is virtually the same product. But because they have different names, and different marketing, they have different followings.
Otter Pops are the more campy of the two; they have actual characters based on the flavors, and date from 1970, according to Wikipedia. Fla-Vor-Ice dates from 1969. Other brands include Kool Pops and Pop Ice; what you call a frozen bit of flavored ice in a tube probably indicates which specific product you grew up with.
Some folks do not use the brand name for them, and instead call them Cough-Sicles. This comes from the peculiar ability of them to make you cough when you eat them. Is it the artificial dye? The corn syrup? Psychology?
Particularly amusing is the Wikipedia entry for Otter Pops. It reads:
The product consists of a plastic tube filled with a fruit juice liquid, with some varieties containing 100% fruit juice. Although Otter Pops are a "Frozen Treat", they are stored and sold at room temperature.
Today, many of the same regions carry both brands, and the category is fairly well genericized. Jel Sert's dominance in the categories of flavored things (ie Royal gelatine, My-T-Fine custard, Flavor Aid fruit drink mix). But Otter Pops is supreme.
Pictured here are Otter Pops on the shelves of a Publix in Sarasota. I should have bought them as there is a $1 rebate and they are 2 for $2, which means they might sort of be….free.
Apparently, there was an actual animated ad for the product, though none has been found and we are hoping some reader can come up with a clip on YouTube. It went thus:
There's an otterly fantastic place Waiting for you in Otter Space So come with us in our Ottermobiles There's an ottermatic shift on the steering wheel And you can dri-i-i-i-i-i-i-i-ive… And you can dri-i-i-i-i-i-i-i-ive… And you can drive all the otter kids crazy with OTTER POPS! OTTER POPS! OTTER POPS, in a box are twenty-four There's Strawberry Short Kook, Louie Bloo Raspberry, Sir Isaac Lime, Alexander the Grape, Rip van Lemon and Little Orphan Orange! FREEZE 'EM AND EAT 'EM – that's what they're FOR! OTTER POPS – You get 'em at your grocery store!