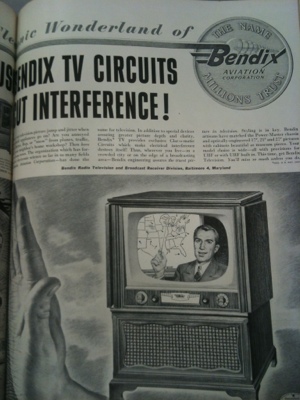 Bendix is one of the great technology and defense brands of the 20th century, though most adults will also remember it for the attention the company during the merger mania of the early 1980s.
However, the company was known by the general public as an innovator, as it licensed its name to a partly owned subsidiary that sold home appliances. This was an excellent strategy for the company as so many after World War II trusted defense companies and knew the different brands from being in service. It also made its own missile, the RIM-8 Talos.
Today, the brand is used in two places, first as Bendix King avionics, which is part of Honeywell, and Bendix Commercial Vehicle Systems, which makes air brakes.
The genius of the name is the halo of history that comes from the company's founder, inventor Victor Bendix. The name was popular in the U.S. because of his work, which included the Transcontinental Bendix Air Race, a version of which is still given out for aviation safety.
The name still has value because of these past , and a careful, thoughtful and quality focused licensing program would definitely sell products and would promote the brand outside of its two immediate areas of interest. In particular, Bendix consumer products and the Bendix Air Race would be captivating to consumers today. In fact, any prize that would promote private aviation would be a winner for Bendix and its parent, Honeywell. What about a giant Bendix air rally across the United States, one thousand private planes from D.C. to Los Angeles? The winner not the fastest, but the one with the safest, handsomest and best-maintained machine? If the company wants to do that, contact us, as its all in our head.
If anyone has any great memories or testimonials of Bendix appliances or defense products, please leave them below.