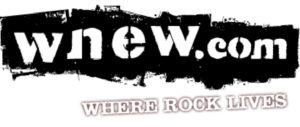 So it's not the same as having a life as the main FM in New York at the frequency 102.7, but it's close. CBS Radio has brought back the album oriented rock station WNEW as an online radio station. No longer is it an artifact of radio history. Thankfully, a sort of WNEW is still serving up old interviews, music and archives as the best known FM rock station of New York City. It did this just after it turned WNEW FM into WWFS 102.7 Fresh FM.
Confused? WNEW FM was the landmark rock station of New York, and launched on October 31, 1967 as one of the first great stations of the radio format that became Album Oriented Rock, or AOR. (This BrandlandUSA writer grew up with K-94, the Skynyrd-playing Moyock, N.C. AOR station.) Over the last decade, WNEW FM has had an enormous amount of bad fortune and format switches, but the station was still beloved. The new site, which apparently connect with the Pandora-like website last.fm, is an attempt to bring all the good history of the station into one place on the internet. A great history of the demise of the station is in this CNN article.
This "unparalleled" archive of interviews and performances will be the base of the new station, which will still broadcast. It will broadcast at 102.7 HD2 in New York and online at wnew.com. (Apparently, CBS transferred the call letters WNEW to a radio station in Florida. This raises an interesting idea; that call letters of stations have enormous equity. Perhaps transferring the station letters was a smart move, as now the equity can be preserved.)
The new HD radio format promises a new era for radio, and gives hope to defunct radio stations that have great legacies. (See the BrandlandUSA post on WABC 77 Musicradio.) No longer will fans of a declining radio station have to suffer if their format changes. Instead, they will just have to buy an HD radio and listen to it online or on the HD. This also might be an option for WNEW's AM legacy, which was built around popular standards (Rich Conaty — Thank goodness he, and The Big Broadast, still lives on WFUV.) It also might be an option for WOR, which had a number of great lives as an AM station in New York.
A bit from the press release:
The WNEW revival project is led by Norm Winer, CBS RADIO Vice President of Adult Rock Programming, and former program director of the landmark WXRT in Chicago. He said in a press release, "As a music fan and radio geek who grew up in Brooklyn listening to the original WNEW, I'm excited to help recapture the spirit and philosophy of progressive radio, using tools we never dreamed of back in the early days. With the foundation of a timeless and totally one-of-a-kind archive, we will provide rock devotees of all generations the chance to hear incredible moments from our collective past and enable them to connect the dots to rock's most compelling artists of the present and future."
Programming includes:
Interview With an Icon: showcases classic extended on-air interviews with rock legends from WNEW-FM
Live From the Archives: vintage performances from rock's most prominent artists. In addition to the vaults of WNEW-FM, the station will have access to the recorded treasures of many of CBS RADIO's prominent radio stations such as WBCN in Boston, and WXRT in Chicago
Emerging and Amazing: the station will regularly debut music from rising artists and those whose names are not yet known to the listening audience.
Interested in New York radio history? Check out Pirate Jim's history of New York radio.