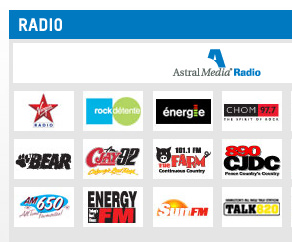 Montréal -Want to brand your radio network? Use an audio signature.
Much like NBC's famous G-E-C notes, the Canadian media company Astral Media has created a new set of audio signatures for all of its AM and FM stations. To create the notes, they hired the California company Musikvergnuegen, the sound design studio that created the Intel Inside "bong", to create 11 variations of the company's 4-note audio sign-off.
They are called "mnemonics" and all versions include Astral's four-note melody with notes a1-b1-c#2-b1.
Listen at www.astralmedia.com/audioslogos
The notes brand all the stations differently, yet indicate to listeners and advertisers that all of these different stations are part of the larger Astral company's properties.
"We are taking the art and science of audio branding to a new level by achieving a true intimacy with our audiences, which we expect will deliver a greater return on marketing investment for the master brand," said Alain Bergeron, Astral Media's vice president of brand management, in a press release. "The more our message and brand identity can be customized within our community of unique consumers, the more effective we should be in captivating and building a loyalty within our diverse audiences."
Astral Media's owns a wide variety of radio properties in Canada, including four radio stations in association with Virgin Media. It wanted to tie them together, yet accent what was different.
"Astral Media is moving boldly to expand the discipline of audio branding to personalize its brand character with the most diversified audience possible," said Walter Werzowa, composer/sound designer and owner of Los Angeles-based Musikvergnuegen, in a release. "As far as we are aware, no media company has allowed for such specific, targeted audio branding across their diverse outlets; a mnemonic is the best vehicle to achieve this task."
Werzowa's pioneering work on the famous Intel "bong" can be heard somewhere in the world every 5 minutes. The company created the Intel audio logo along with mnemonics for LG, Comedy Central, Samsung, Delta Airlines, GM Goodwrench, and more. For more information click on www.musikvergnuegen.com