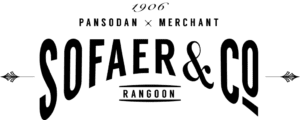 Yangon, Myanmar – In every city, there are dozens of historic local brands that once defined a city, but have disappeared. The challenge is that often they were retail brands named after people or families, and a revival is, seemingly, a bit challenging. The store goes, the city changes, and an identity and ecosystem is lost.
This situation was made even worse in Yangon, Myanmar, the city formerly known as Rangoon, Burma. Back in the 1980s, the country was even closed to foreigners for a bit, and every manner of capitalism and former colonial style shut down and obliterated. This was the opposite of Singapore, where Lee Kuan Yew ably negotiated independence with Britain without destroying the history of the British that were there. This recipe, of not destroying the past, has served him well.
In Yangon, one of those local brands was Sofaer, named after a Baghdad-born Jew named Isaac Sofaer. In downtown, the beautiful classical Sofaer building is a centerpiece of colonial architecture, beloved because it has been a part of the country so long.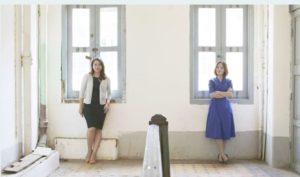 Two quite stylish entrepreneurs, Van Tran and Ingyin Zaw, saw this identity as an opportunity to promote all things Myanmar, creating a reconciling bit of restaurant that ties together many strands of history.
At right, a photo of them in the building.
I cannot say it better than they say themselves on their website:
In 2016, a group of friends who met in Yangon stumbled upon a derelict unit at the far right of the once thriving emporium, which was being used as a warehouse for plastic packaging.
A dream was born: to revive a place that could be a space for the meeting of minds, to build a home away from home for people at cross-roads in a country at cross-roads.
The brainchild of Van Tran and Ingyin Zaw, Sofaer & Co. adopted the name of its namesake building. Here we celebrate life's simple pleasures – coffee, cocktails and an open kitchen with the freshest local and regional ingredients.
Sofaer & Co's space preserved most of the original features of the building – including the encaustic Victorian-era tiles from Manchester, steel beams from Lancashire and wood panels from possibly the era of the Vienna Café and Burma Book Club.
The clean, contemporary design pays homage to the history of the building, featuring our own designed, locally made furniture with the signature Burmese rattan weaving, locally commissioned artwork and reclaimed glassware from Nagar Glass Factory.
The question here, for people across the United States, is what local brands, what local retailers, what local identities inspired people then, and what identities inspire people now? How can you put those together into a new identity, claiming those old names for a new purpose? A restaurant, named after a local institution, is a great way.
The challenges faced in a country like Myanmar are far more difficult than the ones that might be faced in many of the cities across the U.S. that struggle with deteriorated buildings, tired retail life, and corrupt governments. Yet they did it.
Look into your city's local retail history, and mine it like it is a gold mine.