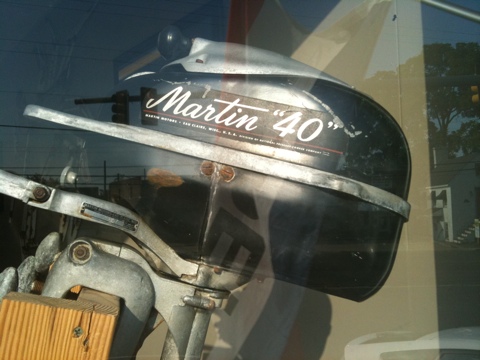 WARSAW, Virginia – On display in the window of this Northern Neck town at The Daily coffee shop is a snazzy Martin "40" outboard motor. Once, there were many American outboard brands. While Evinrude, Johnson and Mercury survive, Martin did not.
Martin Motors was from Eau Claire, Wisconsin. This motor was made when the brand was part of the National Pressure Cooker Company. Apparently Martins were made from 1946 to the early 1950s, and had "poppet" valves.
Can someone please explain poppet valves?
The brand survives today; Larson Outboard apparently owns the blueprints and supplies parts for the old ones.
Over the years there have been dozens of motor brands sold in the U.S., including Chrysler Marine, Perkins, Rootes, Oliver, Flambeau, Champion, Sea Flyer, Elgin, Scott-Atwater, Lauson, Neptune, Reily, West Bend and Hiawatha. My cousin Mark is a big fan of British Seagull engines.
Any memories of vintage outboards? And what brands were noted for styling, technological innovation, durability and economy?