SAN FRANCISCO – The Snap-E-Tom tomato cocktail was a product of the Pioneer Ortega company, and later Heublein, and today owned by Del Monte. Made with chile peppers, onions and tomatoes, it was a Bloody Mary mix that advertised itself as the Big Brother of the Bloody Mary, Bloody Thomas.
Snap-E was the hot tomato of the 1970s brunch, sexier than staid Mr. & Mrs. T. Since the Great Depression, he has been the zesty cousin of the perennial East Coast WASP drink, the Bloody Mary.
The commercial had the famous line, "Hey dum-dum, you call this tomato juice?"
The trademark, according to the USPTO, was first used Nov. 30. 1930. It is described as a canned tomato juice comprised of water, tomatoes, green chiles and onions.
According to Kathy Strong's Southern California Off the Beaten Path, Ortega of Ventura, California was founded by Emilio Ortega. Ortega was headquartered in the historic Ortega Adobe, a structure at 215 East Main Street. Ortega invented a fire roasting process for chili peppers and developed chili, salsa and Snap-E-Tom.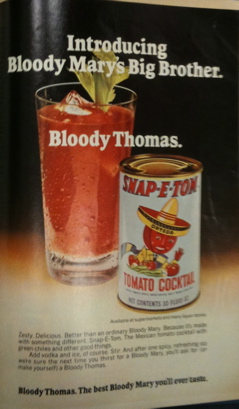 The product is deceptively simple, and one of the few products with the ingredient list shown as part of the packaging.
The product had disappeared from grocery shelves around 2010, when BrandlandUSA.com first looked back at the product. It later reappeared, and is now disappeared yet again from Amazon.com and Walmart.com.
Customer reviews are mixed. Some say that the version made around 2015 was the same as before, others felt it was of less quality. Tomato juice drinks may be hard to ruin, however, as celery, tomato and pepper are pretty simple ingredients.
Del Monte renewed the trademark at the beginning of 2020, with the Ortega name left off of his wide brimmed Mexican hat. Ortega, mostly known for taco kits, is now part of B&G. B&G Foods purchased the Ortega brand in 2003.
The current version is just not as cool as the original. The company would do well to look at the early 1970s packaging, and stick with it. It also needs a good animator, and would do well in Tic Toc clips, etc. Below, a 1970 commercial.
Comments at bottom have a full history of the product.
Below, Images of the Brand. Note: This post was revised on Feb. 7, 2021