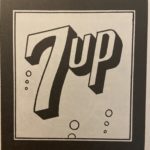 PLANO, Texas – 7Up has a taken an all of the above to the use of its logo on new packages. The brand is using an array of previous 7Up logos on their packaging, beginning with their earliest formats, a square with the 7up in the middle.
The program is called Celebrate the Decades, and it appears on their 12 pack of soda cans.
7Up was the invention of Charles Leiper Grigg, a St. Louis soda maker, who switched to lemon lime drinks in 1929. The original drink was called Bib-Label Lithiated Lemon-Lime soda. The drink originally appeared in 7 oz bottles, hence the name 7Up.
The lemon-lime soda is a predecessor to Sprite.
Today, the 7Up brand is owned by Keurig Dr. Pepper. It is part an array of 125 brands in that company, including Canada Dry, Sunkist, Vernor's, A&W, Hires, RC, Nehi, Bai and Schweppes.
On a separate note, and for no partucular reason, the groovy See the Light campaign for 7Up from the 1970s. Its on their Instagram.