CHICAGO – This month, the retailer Crate & Barrel marks 60 years.
Gordon and Carole Segal founded Crate & Barrel on Dec. 7, 1962 on Wells Street in Chicago. As the story is told, it was a year after returning from their honeymoon. He was 23. They were eager to sell the modern European home goods on they saw on their travels.
"We hadn't seen anything in the U.S. like the classic designs we had come to love during our travels, so it was a prime opportunity to curate pieces we knew others would enjoy," said Gordon Segal, in a news release. "We could never have imagined how Crate & Barrel would evolve until we saw how much desire from consumers there was for a home goods destination like this."
The store, along with Habitat in England and Conran's in the United States, revolutionized the way houses looked. Gone were frumpy and chintzy. In came clean lines, bolder colors and attention to the cooking process, not just the presentation of the dinner.
Across the nation, individual retailers opened "Scandinavian" interiors shops, where good taste meant cleaner lines and simpler design. Brands like Vera and Marimekko brought patterns and style to home stores. By the 1980s, Crate & Barrel symbolized a sort of urban ideal of visual sophistication, with products always of "good" design.
Their first store on Chicago's Wells Street displayed dinnerware sets and entertaining essentials atop wooden crates and barrels.
"This milestone provides the perfect opportunity to celebrate our heritage while looking forward – we will seek new purposeful design and commit to a more sustainable future for people and the planet." said Janet Hayes, CEO of Crate & Barrel Holdings, in the release. Hayes joined the company in August of 2020, after almost a decade at Williams & Sonoma. Prior to William Sonoma, Janet was President of Pottery Barn Kids and Teen. Her career also includes positions at Nike, GAP and Macy's.
Segal retired in 2009, though is still involved with the company and returned as a consultant a decade ago.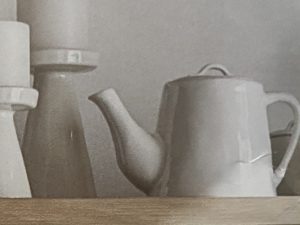 In 2019, the retail chain closed its North Michigan Avenue store in what would be the world's largest Starbucks.
Crate & Barrel Holdings, Inc. includes the retail brands Crate & Barrel, CB2, Crate & Kids and Hudson Grace. Today, the company is a member of the German Otto Group. There are over 100 Crate & Barrel, CB2 and Hudson Grace stores throughout the U.S. and Canada, with franchise locations in 9 countries. Visit www.crateandbarrel.com.