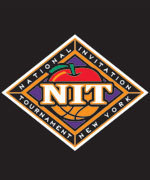 This site loves old brands that tenaciously cling to life even as they become prey of short-sighted conglomerates or a develop into a punchline. In that spirit, let us salute the National Invitation Tournament, the postseason college basketball affair that pits 32 teams not good enough to reach the highly visible NCAA Tournament. Derided for decades as the "Nobody's Interested Tournament" or "Not Interested Tournament"-heck, N-I-T is occasionally used as a taunt by opposing fans-the old event possesses a wonderful history and an uncanny instinct for survival.
The NIT, which tips off tonight, began in 1938, a year before NCAAs. In the first decade of competition, today's afterthought looked like the more likely winner in the quest for greater relevance. The NIT took place in Madison Square Garden, then the ultimate showcase for college hoops; it had the backing of the sport's most important promoter, Ned Irish; it drew more scouts; and it provided a better venue for independent schools rather than programs tied with conferences. In the days when college ball was dominated by New York City, other Northeastern institutions and Catholic universities, all eyes looked to the Garden.
With the two events in competition, but the NIT holding a slight advantage, the era's powers sometimes played in both tourneys. The City College of New York, famously, swept the tournaments in 1950, defeating Illinois' Bradley in each final. But then the college basketball points-shaving scandal of the early 1950s sent New York hoops reeling for a generation, pushing the NCAA ahead of its competitor by the middle of the decade. Though in fairness some competition lasted until 1970, when Marquette chose the NIT over the bigger event when the latter put the Warriors in the far-away Midwest Region instead of the nearer Mideast. Finally, the NCAA's expansion from one team per conference into multi-bid leagues in 1975 sent the older competition reeling. Think of it this way: If the old NCAA rules still existed, three of this year's No. 1 seeds would have played in the NIT.
And yet the Nobody's Interested Tournament stays alive. It moved its early-round games from the Garden to on-campus venues in 1977, giving the event new life. It started an early-season competition in 1985. Finally, it brought an anti-trust lawsuit against the NCAA before the sport's governing body bought out the tournament giving it permanence.
Sure, critics may deride the NIT as a tournament to determine the 66th best team in the United States, but with the rise of the newer College Basketball Invitational, which allows teams with losing records, and the inaugural CollegeInsider.com Tournament, perhaps it deserves a little more respect.