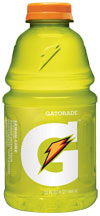 Please make graphic designers stop.
First Pepsico does a number on Tropicana, and then this G for Gatorade. Annoying. Can we not just make the product and sell it? We keep seeing it on the shelves and tried to ignore it.
Certainly, the new design is tasteful. And we have to allow a company to change with the times. The lightning bolt is OK too.
But we do miss Stokely Van Camp, though we know that's a goner a long time ago. And we understand you can't have it in a glass jar.
The great Wacky Packages parody advertised that it was "Made from freshly squeezed alligators!"
We disagree with Kulturblog. We hate all the redesigns of all the PepsiCo products. They are way too cool for school.
Pepsico has lots to say about the design, but we do find it confusing.
"Just like any good athlete, Gatorade is taking it to the next level," said Sarah Robb O'Hagan, chief marketing officer for Gatorade. "Whether you're in it for the win, for the thrill or for better health, if your body is moving, Gatorade sees you as an athlete, and we're inviting you into the brand."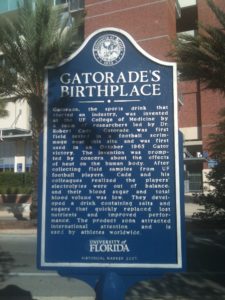 We don't expect PepsiCo to do a mea culpa like Tropicana. They've had enough of sword-falling for the year. But we do wish at least one product would just be what it is, and companies would spend time selling it well.
Sarah Robb, I don't want to be invited into the brand, thank you! I just want to buy it.
We know they like us talking about it, even though we don't like it. But we still like what's inside. At least they didn't change that.
Pictured here, the Gatorade sign in Gainesville, Florida, its birthplace.