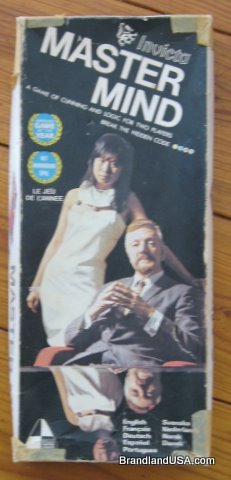 The Invicta board game Master Mind swept the 1970s; part of the charm of the British-made game was the box. The Invicta game had an Asian woman and a "distinguished" man sitting below her.
Many a college thesis could be written on the implications of this came. Questions include:
Was he smarter than her? Was she smarter than he?
Why was she standing?
Why did she have her arm behind him?
What was that dress?
Aren't all Asians smarter?
Were you supposed to be able to try to beat them at the game, or were they playing against each other?
Were they a couple?
Was she his ????
The models in the photo were an accident; a bit about the history is online at the site of the University of Leicester. The woman was pulled right off the street the day of the shoot.
A bit about the cover:
Distinguished-looking Bill Woodward was then the owner of a chain of hairdressing salons and young Hong Kong born Cecilia Fung was studying for a computer science degree at the University of Leicester. Little did they know that the photo session at Leicester studio would produce a result which was destined to cut across all international barriers and become one of the world's most famous and enduring images.
To make a brand, you need something clever. But sometimes, you get a funky accident and you make something memorable when you didn't mean to. That's the case of Master Mind.
By the way, the original game was made by Invicta Plastics of the U.K. The current version is by Pressman Toys.
Perhaps the old design is better, frankly.