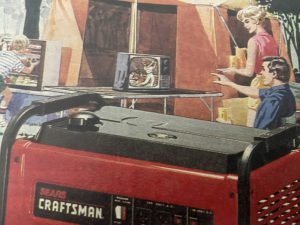 HOFFMAN ESTATES, ILL.– One of the newest plans at Sears (besides closing mulitiple Sears and Kmart stores and licensing the DieHard brand) is to sell Craftsman tools at Ace Hardware stores.
The pilot program involves 100 stores. It immediately appears a winner for Ace as it gives them a line that Lowe's and Home Depot do not have. Apparently, Sears has been in talks with other retailers including Do-It-Best Hardware, Tractor Supply, and Walmart. This seems a huge mistake. The defining reason to go to Sears (and, ok, now Kmart) is the Craftsman and other exclusive lines available there only.
Many have speculated that Eddie Lampert, head of Sears, simply wants to unlock the value of real estate and brands. This certainly seems like a good way to finish off what's left of Sears' retail draw. Selling Sears brands at Walmart is insane if one intends to retain their own retail operation. Walmart tried the Popular Mechanics brand tool program several years ago and even had some form of guarantee. They have long since retreated to Stanley tools. Sears' customer service in their hardware departments was legendary and remains one of their strong points even in today's beleaguered retail environment. Some of the hardware outlets might be able to service the Craftsman guarantee, but Walmart's business model appears to be less-Craftsman friendly.
The bottom line is that private label has become a big draw for many retailers.
This plan flies in the face of the trend and appears, frankly, desperate. Eight O'Clock Coffee continues to flourish out from under the A&P umbrella, but it is a rare exception. A&P itself had started, through Compass Foods, to wholesale it to other stores as their store base and geographic reach shrunk. Customer demand has kept it a top brand. Sears, at this point, does not have the issue of being unable to reach the consumer through its own bricks and mortar.
Sears is much revered by me and many others. Why commit such folly? If the large store model isn't working for them, they should create their own showcase store for their exclusive brands and banner it with their own iconic Sears, Roebuck name.