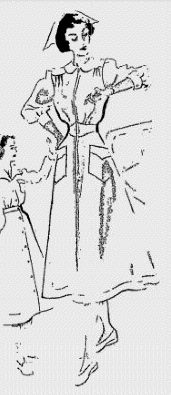 GARDENA, Calif. – Barco Uniforms, one of the nation's oldest and best-known nursing and uniform brands, has introduced a new set of products using new fabric technology called arcTechnology.
"Barco Uniforms has been grounded in the belief that things can always be better," said Kyle Weiner, executive vice president and COO, in a press release. "Our new brand symbolizes our rich heritage of leadership and quality while pointing to a future of ongoing excellence and innovation like our new "arcTechnology", which blends style, fit, feel and performance."
Their products include arcFlex, an exclusive fabric that stretches and moves with a person, leaving them looking and feeling their best through even the most difficult shift; arcLux is an ultra-soft fabric that wraps professionals with a feeling of luxury and pampers professionals even as they care for others; their Grey's Anatomy Professional Wear by Barco uses arcLux.
At right, an old image from an advertisement back in 1949.
Barco has a new logo as well, a change from their old "B" that many hospital staffs recall. The company also has a new tagline, "Love what you wear." The company also makes custom branded uniforms and provides customizable ready to wear apparel and merchandise for market leaders across industries, including fast food. See www.barcouniforms.com.