For those of us who grew up in the 1970s, a Hyatt House was a sort of hotel paradise. Yes, there were Ramada Inns and Holiday Inns, and these were actually decent places for everyday family trips and such. But in terms of a really smart, slick hotel, a really modern hotel, where the food was good and the graphics were spiffy…well there was only  one brand, Hyatt.
Of course Sheraton and Hilton had new hotels, but those were brands with glamour from an earlier time. Hyatt (and maybe a bit Omni, though there were only a few) was fresh and new in the 1970s. And there were fewer Hyatts, and each Hyatt had better architecture. It was, all so fresh.

So it was a bit of a surprise when Hyatt announced it was re-branding the Summerfield Hyatt extended stay brand as Hyatt House, but in their blog, about it, they did not mention the Hyatt House history. In the Hyatt blog item, Gary Dollens, Global Head of Franchise and Select Brands, and Kristine Rose, Vice President of Select Brands, talk about the "new" Hyatt brand. Whether they mention the history or not, it's a smart move to use the Hyatt House brand, as the name has much equity with anyone over 40. It's a true throwback brand, the original identity of the company.
Even Richmond, Virginia had a Hyatt House. The Richmond Hyatt opened in 1974; it was one of 52 Hyatts around the country, most of them Hyatt Houses. While it was made of Virginia mossy brick, it was totally modern and was in a wooded parcel just across Broad Street from the Gordon Bunshaft-designed headquarters of Reynolds Aluminum. Having a Hyatt House was a sort of badge of honor for the city; if you had one you were big time.
The Richmond Hyatt House hotel was known for all sorts of shenanigans on parents weekends and such for the city's prep schools. Unfortunately, it's a low-tier hotel now. In each city, the Hyatt was a bit different; no cookie cutter.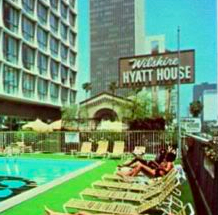 There were many other Hyatts that became infamous, including what is now the the Andaz Hollywood, which was a Hyatt House and made a cameo in this Rockford Files Episode. There was also the Mills Hyatt House in Charleston, and the Del Monte Hyatt House in Monterey, California (still a Hyatt). There were also Hyatt Regency hotels, but those were all mega-hotels.
History Starts in L.A.
The Hyatt brand started with Jay Pritzker's purchase  of the LAX Hyatt House in 1957. The company reinvented hotels in the 1960s and 70s with their massive atrium hotels, including John Portman's design for the Atlanta Hyatt Regency, which made architectural history and is discussed by Tom Wolfe in his From Bauhaus to Our House diatribe.
As the Hyatt House brand grew, it made it into the pop culture as Hyatts were often the places where rock stars, staying in new coliseums and arenas built around the U.S., would stay. For instance, Warren Zevon's "Poor Poor Pitiful Me" talks about the Hyatt House; the song was later covered by Linda Rondstadt. It goes:
She asked me if I'd beat her
She took me back to the Hyatt House
The re-use of the brand is proof that while business trends change, and sometimes brands are modified, very often old concepts can be reinvented as new ones.
Keep your old brands around the attic; use them to renew them. You might need them four decades later.