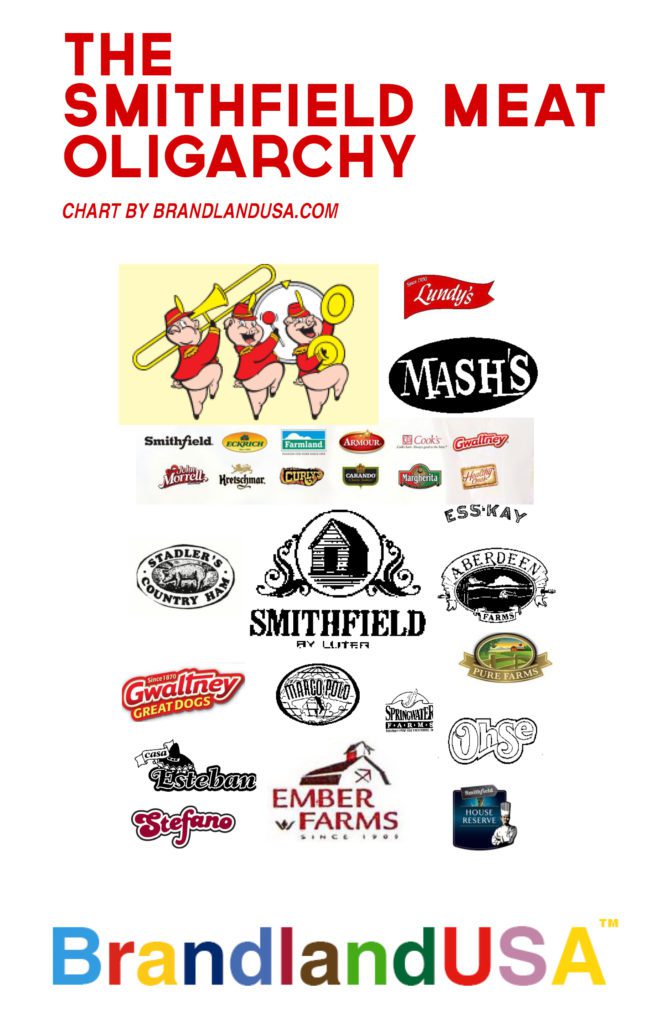 When most of the major brands in an industry go to one owner, it should be of major worry to any industry. When brands are owned in the U.S., it is an oligarchy. When owned outside of the U.S., it becomes a cartel.
Part of the discussion of the legality of the purchase of Smithfield Foods by Shuanghui International Holdings Ltd. is not only their grip on the pork market through technology and market strength and iffy practices in China, but their potential ownership of most major U.S. meat brands. Except for Oscar Meyer and Boar's Head, it owns most of the national meat brands in the U.S., including Esskay, Armour, Valleydale and John Morell, among dozens of others.
The Wall Street Journal quoted CEO Larry Pope as saying to the Senate Agriculture Committee, "It will be the same old Smithfield, only better."
As Americans, we cannot assume this and take his word on it; he has far too much to gain, and the rest of us to lose. Indeed to have the nation's meat brands under the ownership of the Chinese government sets a dangerous precedent. This is not like Nestle owning Stouffer's, or Unilever owning Suave shampoo.
Historic Brands with Equity
Food brand names take years to establish, and because so many of them are legacy brands, there is little competition. Foods are also mostly commodities, which means that there is not a great incentive to create new brands. Also, Smithfield has purchased so much of the industry that there is less room for startups. Most importantly, because Smithfield has been under U.S. ownership, the major decisions have been made here, in the U.S., by Americans who are subject to the social pressures, norms, ideals and law of the U.S.
Currently, Smithfield has a large number of brands of meats, not only ones that it advertises on its website, but ones that are run through their Delaware investment subsidiary, SF Investments. Consumers associate the Smithfield and Gwaltney brands with the pork giant, but there are many other brands that the company owns. The awful thing here is that the company owns so many national meat brands that if it were purchased by Chinese interests, the greatest intellectual property in American meat would be all be taken.
Smithfield lists these brands on its website, but there are others as well, many not as well known. Together, they point to a giant red flag if this company is allowed to be owned by what is, in reality, the Communist government of China. Another website has a list of subsidiary companies that are part of Smithfield. This is also a major concern, though a separate issue than the brands, which if allowed to proceed will permanently restrain others from the meat market.
List of Brands
In previous mergers, the Justice Department has forced other companies to divest brands before any merger is approved. This is such a situation; the company should be forced to split off some of these brands before a merger is even considered.
The mega-brands that the company owns include:
Smithfield
Eckrich
Armour
John Morell
Valleydale
Other brands or character or word marks include, but are not limited to:
Aberdeen Farms
Ohse
Briggs
Maple River
Virginia Plantation
Lyke's
Honee-Weenee
Mash's
Marco Polo
Ohse
White Champion (a tallow brand)
Springwater Farms
Three Rivers
Rocky Mountain Pride
Ribbits
Oak Creek
Queenella (an awful brand of chitlins)
Farmland
Cumberland Gap Provision
Carando
Lean Generation
Curly's
Cider House
Trimcut
Hamilton's
Kretschmar
Sunnyland
Cook's (from Con-Agra)
Healthy Ones
All Natural All Iowa
Todd's Old Virginia
Competitor Cut
Skakin Bacon
Pure Farms
Dixie Skillet
Oven Perfect
Summer Spiral
Ember Farms Since 1909
KC Wild Wings
Classic Cure Ham
Stadler's Country Ham
Roegelien
Casa Esteban
Big 8's
Easy Karv
Stefano
Milano's Italian Grill
Since 1950 Lundy's
Schneiders
Master Carve
Pit Ready
Eat Like a King
Since 1870 Great Dogs
Carvemaster
Other regional brands:
Williamsburg
Jamestown Ham
Pagan Ham
The Peanut Shop (a Colonial Williamsburg retailer)
Smithfield by Luter
Federal officials need to carefully review ALL of the issues with this sale, including intellectual property issues.