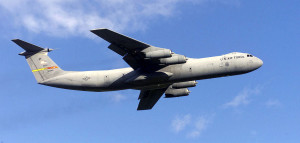 As the U.S. retires the last C-141 StarLifter, Lockheed-Martin issued a press release, the sure sign of a company that values its history, as it is currently making the C-130J modernizing the C-5 Galaxy.
The aircraft, used from Vietnam to Iraq as a transport, debuted in 1967; the retired Hanoi Taxi aircraft has 39,470 flight hours and 10,900 landings.
The C-141 was a tremendously successful aircraft for Lockheed as a military jetliner; a commercial version never succeeded. It was notable for many reasons; Walter Boyne, in The Lockheed Story, recounts that the plane's production area was where the company decided to desegregate its Georgia operation, as it was with Federal money. Lockheed officials Dan Houghton and Dick Pulver quietly removed all segregated signs at drinking fountains, and instead simply offered paper cups. Segregated lunchrooms were abandoned, with food carts placed in halls.
The last plane, the Hanoi Taxi, will go on display at the National Museum of the United States Air Force in Ohio. Counting the Hanoi Taxi, a total of 13 StarLifters are in museums or preserved.
A bit of history:
"The StarLifter was the first production aircraft to be completely designed by engineers at the company's division in Marietta, Ga.," added Reynolds. "At the rollout ceremony in August 1963, President John Kennedy pushed a button at the White House that sent signals to open the hangar doors in Marietta. Today, this division of Lockheed Martin continues the company's air mobility legacy with ongoing production of the new C-130J air mobility aircraft and modernization of the C-5 Galaxy, the largest transport aircraft supporting the needs of the U.S. military."
Part of the Lockheed brand is the naming; something star or star-like, i.e. C-5 Galaxy, Constellation, SeaStar, MILSTAR satellite system, F-104 Starfighter and one of the most handsome jetliners ever, the L-1011 TriStar.