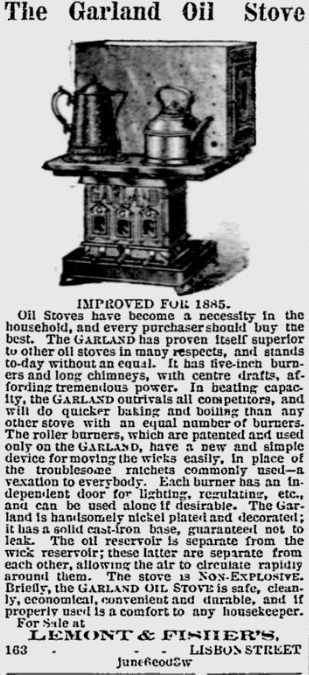 NEW PORT RICHEY, Fla. – The Italian company Ali Group, owner of dozens of professional cooking appliance brands across the world, has made a $24 a share cash offer for Welbilt, a Florida-based maker of brands that include the Manitowoc ice maker and Garland stove. On Tuesday, July 6, 2021 the Welbilt board decided that a proposal from Ali Holding Srl was superior to other offers, subject to the approval of stockholders and regulators.
One of the oldest and most prized brands in the Welbilt portfolio is the Garland Stove, originally made by the Michigan Stove Company. The company was founded by Jeremiah Dwyer in 1871. Garland was once the largest maker of stoves in the world, with hundreds of models. Welbilt Company had purchased the Garland name in 1955, and reinvented the company. The company also owns Convotherm ovens, Crem coffee makers, and Kolpak freezers. Other key brands include:
The Cleveland steamer brand, which dates to 1847; Cleveland introduced the first presure-less convection steamer in 1974.
The deep fat fryer, the Frymaster, launched in 1935.
While ice-making is not a new invention, the company's Manitowoc ice machine, patented in 1966, was the first with a vertical evaporator, which meant that ice would drop down after being made. The innovation made ice plentiful at fast food restaurants. The fast work and reliability of the Manitowoc icemaker made the in-room hotel ice bucket possible.
Ali Group owns dozens of brands, including Scotsman ice makers, Champion dishwashers, Williams refrigeration, Aladdin Temp-Rite delivery coolers, Metos Marine laundry equipment, Stierlen dishwashers, Temp-rite meal delivery carts, Lainox ovens, Polaris refrigeration, Beverage-Air chillers and coolers, Friginox walk in chillers, and Icematic ice makers. The companies operate independently.
The merger would create a giant amalgam of food service machine brands that serve restaurants, institutions and professional chefs. On May 25, 2021, Ali submitted the proposal to Welbilt to acquire the common stock of the company for $23 per share in cash. That proposal represented a premium of 47.2% to the Welbilt share price as of April 20, 2021. On July 6, Welbilt announced the revised offer of $24, which may be accepted by Welbilt prior to July 14, 2021.  A July 5 Ali Group news release explains what happens, going forward:
Ali Group has obtained fully underwritten, binding commitment letters for debt financing from Goldman Sachs International and Mediobanca. The Ali Group proposal also provides certainty of securing regulatory approval with the inclusion of a "hell or high water" provision, which requires Ali Group to take all actions necessary, including divestitures, to obtain all requisite antitrust approvals without undue delay. Ali Group looks forward to promptly executing a definitive merger agreement with Welbilt to bring together the two companies' highly complementary portfolios of foodservice equipment and solutions.

July 05, 2021 release, Ali Group
Founded in 1963, Ali Group is an Italian corporation with headquarters located in Milan, Italy and U.S. operations in Chicago. The company designs, manufactures and services commercial and institutional foodservice equipment used by major restaurants and hotels, restaurants, hospitals, schools and institutions. Ali Group employs approximately 10,000 in 30 countries, with 58 manufacturing facilities.
Goldman Sachs & Co. LLC is serving as Ali Group's exclusive financial advisor, and Alston & Bird is acting as legal advisor. Morgan Stanley & Co. LLC is serving as financial advisor to Welbilt; Gibson, Dunn & Crutcher LLP is serving as the company's legal counsel.
Vintage Garland Stove Images