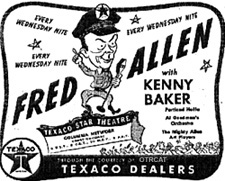 Much of old radio has been forgotten, except for a thriving collector industry that has, with the promise of modest returns, preserved a whole segment of American culture for posterity.
One of the better known sellers is the Old Time Radio Catalog. BrandlandUSA caught up with Jon Folk, owner of Old Time Radio Catalog, who has made a business of old broadcasts of radio shows from radio's golden age, from the 1920s to 1959.
The Lanexa, Kansas-based catalog has dozens of radio programs, as well as collections of radio speeches, including some from President Clinton. Most fascinating to BrandlandUSA are the brand names that are still represented in the collections:
Tales of Fatima, with Basil Rathbone, sponsored by Fatima cigarettes
Texaco Star Theater
Ford Theater
General Motors on Safari
Lux Radio
Redbook Dramas
Skippy Hollywood Theater (apparently it made Skippy popular nationally)
Carling Beer Shows and Challenge Into Space
Old Gold Comedy
Quaker Party, which started on WCAE and was sponsored by Quaker Oats
Alka Seltzer Time
Bell Telephone Hour
Philco Summer Hour
Philip Morris Playhouse
Raleigh Kool Program
OTRCAT has posted thousands of radio episodes online. Visitors to OTRCAT.com can stream or download full episodes in Mp3 format as well as read detailed descriptions of the performers and series, which date from the 1920s to 1959. In the 'daily downloads', there are the broadcasts of the day throughout history. Quick questions:
How did it start?
I started the website as a trading website, and it has grown. Collectors wanted copies, and I then began converting them to mp3 files.
When did you start?
I started the business a little more than 10 years ago. At the time, old time radio collecting was an expensive hobby and many of the shows were being stored on audio cassettes, reel-to-reels, and other audio devices that made collecting and sharing difficult.
What are best sellers?
Right now, the best selling radio shows are all the horror shows. I think that they are the most timeless and translate well to our time. Radio was the ideal medium for the horror genre because it uses the theater of the mind to create thrills and chills.
For more info, see www.otrcat.com