By Garland Pollard
LONDON – How about a rerun or a revival for Digital.com? A firm in the U.K. entitled Quality Nonsense purchased the digital.com domain and hopes to redevelop it. Or not. As they say in their website:
We bought the domain to develop, rather than to speculate, and have declined several substantial offers. However, serious offers will receive suitable consideration.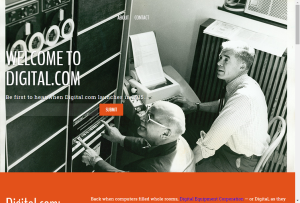 The domain was part of HP, which purchased Digital Equipment Corporation and shut down the brand. Quality Nonsense has put up a shingle website, using a Mad Men era Flickr image.
The Digital shutdown was a waste of a great corporate legacy. Not only did Digital have a great history of innovation known to older technology pioneers, early Internet adopters in the 1990s appreciated the brand for its Altavista search engine, which Google clearly aped. Even today, I find myself missing some of the search features of Altavista, which pioneered a sort of generic search that showed no favorites. It also allowed for the searching of images and audio files.
Today, the altavista.com website redirects to Yahoo. However, because Altavisita was originally a subdomain of digital, if you go to altavista.digital.com you necessarily fold back to digital.com, as that's the way the website works. [Read more →]