By Garland Pollard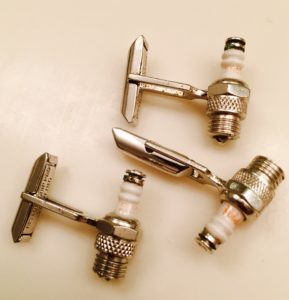 NEW YORK – One of the many niche defunct brands in men's accessories was His Lordship. Back in the day when many men regularly wore cuff links, studs and tie tacks, smaller companies like His Lordship sold custom crafted jewelry. In the case of His Lordship, it was mostly nautically themed items, mostly made of sterling.
In the 1960s, the company had an affluent WASPy clientele that learned about His Lordship through sailing and boating magazines. It was totally a businessman's product. The His Lordship Products Company, located at 245 Seventh Avenue, not only made jewelry other small metal items at their Manhattan location. At right, a set of Champion spark plug cuff links that were given to me by my father in law. The are supremely well made. Quite snazzy.
Today, the products can be found on Ebay and Etsy, usually quite reasonably priced.
One of the company's key segments of business was making special Defense Department medals, including the Republic of Vietnam Service Medal; Army, Navy, Marine Corps and Air Force Commendation Medals; the Legion of Merit; Distinguished Service Medals; the Air Force Cross; and the Purple Heart. Their contract specification was never to have a defect.  [Read more →]