CHICAGO – Back in the 1950s, Bab-O was one of the top bathroom and kitchen cleansers, along with Ajax and Comet. Today, the cleanser is distributed by Fitzpatrick Brothers of Chicago. The brand shows up at assorted variety and specialty stores.
Here, the current packaging, a gel version with bleach.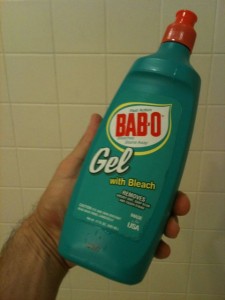 Fitzpatrick Brothers also now owns Old Dutch Cleanser, the vintage cleanser whose brand came back into popular parlance during the Arlen Specter / Joe Sestak primary election where Specter lost.
The product still works well; its quite handy to have a simple bleach for the bathroom in a gel format.
Back in the 1950s, the company ran a vigorous amount of national advertising, some of it animated. Above, a commercial showing Virginia's Capt. John Smith and Pocahontas. It was about how John Smith was saved by Pocahontas and Bab-O!
The words are something like (see the commercial below):
Capt. Smith was in distress
while she was stuck with sink smog mess.
Too Bad she didnt have Bab-o.
So sad she didnt have Bab-o…..
Then appeared a medicine man who said
'the cure is in this can."