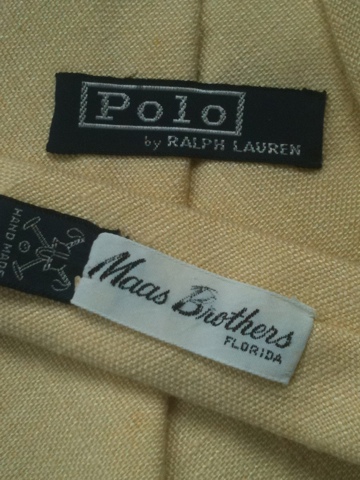 It's an old idea, and it is often forgotten in the rampant cost cutting in retail. It's the clothing retailer name tag. Only a generation ago, it was a common practice, as it served as a permanent advertisement for the retailer after the piece of clothing was sold. Every sort of clothing retailer would do it, from the large department stores down to one-location local clothing stores.
Actually, most local retailers used to do this sort of thing. Car dealers, of course, are most famous for it, though sadly the rear tags at dealerships have gone from nice metal plates to stickers to screw in license plate holders.
Pictured here, the back of a Polo Ralph Lauren tie found at a Sarasota thrift store. It has the label of that great Tampa department store Maas Brothers sewn into the tail end. Judging from the fact that Maas Brothers stopped being Maas Brothers in 1991 (it became Burdines, and then Macy's), it probably is of mid 1980s vintage.
Having both labels makes the Polo special, and the Maas Brothers Florida special.
Today, while store labels are sometimes seen sewn into suits at menswear retailers, it is rare on ties, shirts and other items of clothing. Sadly, as retailers have mostly forgotten about sewn-in tags, manufacturers are often paying far more attention to their labeling, including hanging tags, which are quickly thrown away.
Of course, Gap, Old Navy, Ann Taylor, Banana Republic, Brooks Brothers and the rest of the national boutique retailers brand themselves very well, with all sorts of labeling. But these boutiques traditionally do not sell others clothes.
Of course, if you can only sell a shirt for $20, then it is hard to justify the time and expense of sewing a label into an article of clothing. And the department stores completely forgot about branding as they went through the changes of the last 20 years. Department stores have also tried to push their own, in house, brands. JCPenney puts emphasis on brands like Stafford and Macy's pushes its brands like Alfani and American Rag.