The original conditioner, Tame, is back on the shelves as a house brand at Dollar Tree. On the back, it has "Distributed by Dollar Tree" so you know its an exclusive.
The use of Tame as a store brand is part of a recent trend of retailers licensing old lower-tier brands that have some shelf appeal. The consumer thinks they are getting a national brand, and yet the discounter has an exclusive product.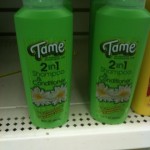 The packaging says it dates from 1978 but I believe the product is much older. Originally it came in a round bottle and was called Tame Creme Rinse. The packaging says it is licensed by Silkience to Dollar Tree.
They did a smart thing by using the 1970s font for the new packaging. It's sort of groovy, and while it does not resemble the font in the commercial seen above, it is seen in a later 1970s commercial.
I don't remember that Tame was a product that consumers missed that much. Not that the product wasn't good, it just sort of got forgotten. However, if others disagree, love to hear from them.