CALISTOGA – A great brand can come from doing something simply and well for just a few decades. Take the case of Dr. John Wilkinson and his Dr. Wilkinson's Hot Springs Resort of California.
Today, his children Mark and Carolynne are the owners, and have run the mud zone for two decades, preserving not only the volcanic mud process but the resort's original ne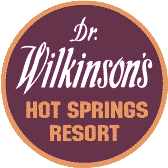 on sign. The resort marries funky alternative medicine with roadside culture, regional cuisine and California travel. The recipe for the mudbaths is secret.
The resort was founded in 1952 by John "Doc" and Edy Wilkinson. Growing up in the San Joaquin Valley of California, Doc Wilkinson fell in love with the healing qualities of Calistoga, and created Dr. Wilkinson's Hot Springs Resort.
They advertise themselves as one of Calistoga's oldest spas, and the only local facility that still operates under founding family ownership.
Dr. Wilkinson's Hot Springs Resort, 1507 Lincoln Ave., Calistoga, CA 94515, 707-942-4102, www.drwilkinson.com