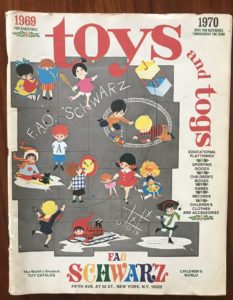 NEW YORK – The FAO catalog is out. Christmas is coming.
Sure as the turn of leaves along the Taconic Parkway, the iconic New York toy retailer FAO Schwarz has released its fall offerings, this year with the Muppets on the cover. No matter the misery on Wall Street, at least the Christmas buying season will arrive, and give everyone a push.
The travails of FAO Schwarz, at least on the consumer side, appear to be over. For a time, they went mass market, and it was horrible. The Fifth Avenue store became more like Kay Bee. The main store at the General Motors building shut down in January 2004, after bankruptcy. The pieces of the company were purchased for $41 million by D.E. Shaw Laminar Portfolios. The flagship FAO reopened after a redo that year, done by Rockwell Partners. The redesign restored the magic by opening up the cluttered feel; the new version even includes a Madame Alexander Doll Factory.
The brand, actually owned by the F.A.O. Schwarz Family Foundation, is one of those iconic New York experiences, and it is now a parent company of Best & Co., which is a redo of another venerable New York retail brand. Like Times Square, Rockefeller Plaza, the Empire State building and Central Park, it is a civic icon for New York. So much so that it was even mentioned in the SNL Katie Couric/Sarah Palin interview skit.
The catalog is as much of, or more of an icon than the store. For most of us folks in the hinterlands, we only rarely got to see the real store, but spent hours with the catalog. Like the Sears Wish Book or Neiman-Marcus Catalog, it was a part of every fall.
The items in the catalog appear to be unique, and not too pricey. That's good, because the company never had a new money feel. There is a big page of Lionel, a cool Hudson Hornet die cast car, even a microscope. A $170 Super Star theater is in line with the original sort of stuff, and a real FAO-type of product. It is larger than life, and involves a bit of creativity by the kids.
The best thing of all is a Muppet Whatnot Workshop. This Muppet making toy is a bit pricey for a puppet, but we found it irresistible. Just pick eyes, ears, nose, clothes and the like, and then your kit arrives. No wonder they put it on the catalog cover. It is exclusive to FAO, which is genius of them, and Muppets Studio LLC. Just looking  at the colors makes one want to spend the $130 to order one for a kid.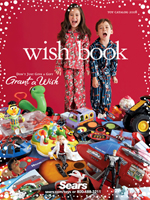 Some stuff is a bit iffy. We would not want to buy a Project Runway Projector Kit for a 12-year-old girl. While there is nothing wrong with the toy, the show is totally inappropriate for a pre-teen. If they want to watch it at 16, buy them a real sewing machine for $100 at Wal-Mart. Don't like the When Santa Turned Green stuff either. We are sure that it sells to the guilt ridden, but please keep the didactic Al Gore claptrap away from the kids at Christmastime. Rationale: Elves are green, Santa is red. 
The company should keep the collector stuff to a minimum. For instance, special collector dolls, and even a Bob Mackie Barbie, are reaching an audience WAY off base from FAO. The adult collector audience has ruined toy trains and turned it into model railroading. They make it a game, and impose adult "rules" on how to play with toys. That is not to say that FAO shouldn't have lots of specialty items that it sells, only that it shouldn't promote it.
There is some quintessentially New York stuff. They sell a Madame Alexander Rockette Trunk Set. It allows girls to dress up a Rockette with different outfits. While we would be curious comparing what a Madame Alexander would sell for in the 1970s compared to today, $280 seems a bit of a steep price, and makes the item more of a collector thing and less of an actual toy.
But those are small criticisms. The catalog is magic, and we are glad the company is in such a good place, at least creatively.
Learn more